Service Hours:
Monday Through Saturday - 8:00 AM to 6:00 PM
Closed Sunday
You can trust the Harley-Davidson® Certified technicians at our Miami shop to take excellent care of your very special new or used motorcycle. Peterson's Harley-Davidson® is THE ONLY AUTHORIZED H-D® SERVICE DEPARTMENT IN MIAMI, FLORIDA.
At Peterson's Harley-Davidson® your safety ALWAYS comes first. We take GREAT pride in getting you and your motorcycle back on the road safe & sound.
---
Stop in any time and consult one of our knowledgeable and friendly Service Advisors about all the new products available for your bike.
---
Is The Weekend The Only Time You Can Have Your Bike Serviced?
Why not have Peterson's Harley-Davidson® pick up your bike during the week, work on it & have it ready by Friday or Saturday? Then you can say.... "Screw It. Let's ride!"
That's right! We'll have our driver pick up your bike during the week at! Our awesome techs will work on it during the week so you can have it back for the weekend.
Just call one of our Service writers José or Mark at the North Dade, Miami location. Our truck is usually very busy, so call as soon as possible early in the week so we can make arrangements for your  pick up.
Obviously our pick up area has limitations, so please call with your exact location, but generally we'll pick up motorcycles anywhere from Florida City to the Northernmost part of Broward County.  
Motorcycle Service Department Features:
PHD Certified Technicians
 Genuine H-D® Parts & Accessories for New & Used Motorcycles
 Screamin' Eagle® Performance Parts
 Courtesy "HOG® WASH" after service
 State of the Art Dyno Room - More info below...
 EXPRESS Service - Read all about it below...
 Pick-up / Drop-off Service Available - Please see below.


---
EXPRESS LANE! EXPRESS LANE! EXPRESS LANE!
Have any one of these services performed while you wait.
No appointment necessary!
Any One Service Scheduled To Be Done In About An Hour:
 Oil & filter change
 Complete fluid change
 Tire replacement
 Brake pad replacement
 Brake fluid flush (factory recommended every 2 years)
 Security system and/or alarm
 Grips, pegs, floorboard inserts, mirrors
 Select accessories (see Service Consultant for details)
Need more than one? Ask one of our Service Consultants & we will accommodate you as long as it won't delay another customer. (Sorry, EXPRESS LANE Services do not include wash)
Our entire Service Team is doing their magic to get your bike on the road again in a timely manner - every day, every time!
---
In The Dyno
When it comes to performance, Peterson's Harley-Davidson® Service Department should be at the top of your list. Our skilled technicians are well trained and we have multiple performance enhancement packages available. Just ask one of our Service Advisors for a quote...
We only use Screamin' Eagle® Super Tuners which is a very complex program, and is the only item that unlocks the fuel management and allows us to reprogram your new or used bike. Our Dyno techs are Factory Trained but have their own tricks as well. Each cylinder gets tuned individually - No shortcuts - No Aftermarket piggy back systems, which MAY get your tuning close, but NOT perfect.
We take pride in having the best Dyno tuners in the state; in fact, we get people coming from as far away as Naples and Orlando.
Feel free to contact our Service Department @ 1-800-545-2561 to receive a quote for a Dyno Evaluation.
---
Our staff all ride so we are able to share the riding experience with you. No concern you have will ever be taken lightly and you can count on us to make every effort to perform the work on your ride right the first time.
At Peterson's Harley-Davidson®, we only hire "PHD" Certified Technicians. This means that the person has completed the Harley-Davidson® approved technicians program at one of only 2 Factory Authorized educational facilities in the country. And that's just the beginning; with each new model year comes new components on the motorcycles and with it, new certification requirements for our Techs. There are new tests each month and everyone must stay current. That way you know your bike is being cared for by only the best!
Each bike is treated to a complimentary "HOGwash" after work or service is completed.
The staff at Peterson's Harley-Davidson® Service Department in Miami look forward to helping with all of your maintenance, performance and accessories needs for new or used motorcycles. When you arrive at our Miami shop, you will be greeted by one of our Service Advisors whose job it is to collect as much information from you as possible for our technicians. Whether your bike is in for a 1,000 mile service or a Big Bore Kit, you will most likely hear from them during the time your motorcycle is with us. Your bike is then dispatched to a technician for the work you have requested, test ridden, off to the washbay and then your Service Advisor will call you to let you know the work is complete.
We look forward to seeing you real soon!
Peterson's Harley-Davidson® of Miami Service
Lotte Barzola
Service Manager
Stuart Lamont
Shop Foreman
Mark Correia
Service Advisor
Brian Diaz
Service Advisor
Sid Gayoso
Service Advisor
Ricardo Paranos
Master Service Technician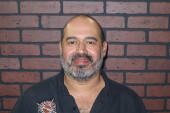 Gil Berenguer
Master Service Technician
Ivan Ceriani
Service Technician
Nick Bartolo
Service Technician
Jonathan Vazquez Perez
Service Technician
Kenny Horlick
Warehouse Foreman
Hugo Mansi
Warehouse Foreman